Katahira Group
Introduction of the Founder Nobutaka Katahira and
the Katahira Group in the world.
Founder: Nobutaka Katahira
KATAHIRA AWARDS/
REAAA
(Road Engineering Association of Asia and Australasia)
REAAA (Road Engineering Association of Asia and Australasia) was established in 1973 with the aim of promoting professional technology related to road engineering in the Asia-Pacific region and promoting information exchange among road stakeholders and organizations.
Headquartered in Kuala Lumpur, Malaysia, it has approximately 1,900 individual and institutional members in 36 countries. The relationship between KEI and REAAA began when the late founder Nobutaka Katahira served as the fifth chairman of REAAA (August 1983 to August 1986). The late Nobutaka Katahira founded the Katahira Fund at REAAA in accordance with his will. REAAA uses the operating interest to cover the costs of awarding prize money and certificates to outstanding papers in technical study on road engineering that have been submitted at every four-year REAAA Road Conference. This fund has doubled since the 10th REAAA Road Conference held in Tokyo in September 2000 with contributions from volunteers. The Katahira Group is currently donating the amount needed to award the Katahira Prize. Both Katahira & Engineers Inc. and Katahira & Engineers International are members.
REAAA collaborates in the development of road engineers in Asia through the donation to the "Katahira Prize."
(External link: Katahira & Engineers Inc.)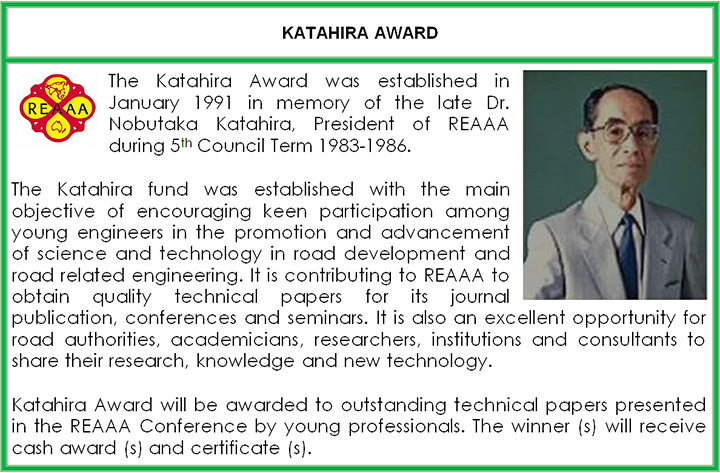 Katahira Group's Overseas Activities
The Katahira Group is active
in construction
and engineering consultancy projects
around the world.
Major countries and projects in which Katahira & Engineers Inc.
has participated since 2008.
Country/
Region

Projects

Kyrgyz

SAPS Survey for Bishkek-Osh Road Rehabilitation Project in Kyrgyz Republic

Kenya

Mombasa Southern Bypass Road and Kipevu New Container Terminal Link Road
Detailed Engineering Design of the Mombasa Southern Bypass Road and Kipevu New Container Terminal Link Road

Vietnam

Detailed Design Consulting Services for Ha Noi – Lang Son Expressway
Consideration of PPP project for Hanoi metropolitan expressway
Detailed Design Consulting Services for BLLT Expressway

Philippines

Detailed Design Study for North-South Commuter Railway Project (Malolos-Tutuban)
Design Consultancy and Technical Services during Construction of Metro Manila Skyway Stage 3 Project

Indonesia

Study on the Makassar Toll Road Project
Nagleg Tunnel Basic Design Work

Sri Lanka

Colombo Battaramulla Northern Highway Feasibility Study
Southern Expressway Extension Feasibility Study
Southern Expressway Base Line Landscape Study

Cambodia

Detailed Design of National Road No. 5 Improvement Project (Thlea Ma'am-Battambang and Sri Sophorn-Poipet Sections)
Basic Information Survey on Phnom Penh-Ho Chi Minh City Expressway Development Plan

Southeast Asia

Formulation of Overseas Expansion Plans for New Urban Transportation Systems