JICA's SME/SDG Business Support Program
Jun-2022 - Jun-2023
Project Name
SDGs Business Model Formulation Survey with the Private Sector for High-Resolution 3D Image Data by a Small Mobile All-Around Camera in Uzbekistan
Country: Uzbekistan
Region: Central Asia
Employer: JICA
Located in Central Asia, Republic of Uzbekistan is a landlocked country surrounded by Kazakhstan, Kyrgyz, Tajikistan, Afghanistan and Turkmenistan with an area of 4.47 million km2 and a population of 31 million. It gained its independence from the Soviet Union on August 31, 1991.
The total length of roads in Uzbekistan is 184,000 km, and the Ministry of Transportation is responsible for 42,000 km of international, national, and local roads. Until now, information on the location and size of roads, bridges and related facilities, photographs of their conditions, their damage and deterioration, and historical repair information were maintained in a paper road inventory. This data is essential for determining the annual maintenance budget and ensuring effective upkeep of transportation infrastructure.
A presidential decree on the digital transformation (DX) of road maintenance was promulgated in 2020, and the digitization process began in 2022, but progress has been slow (at about 250 km per year) as it is done by manually surveying the sites.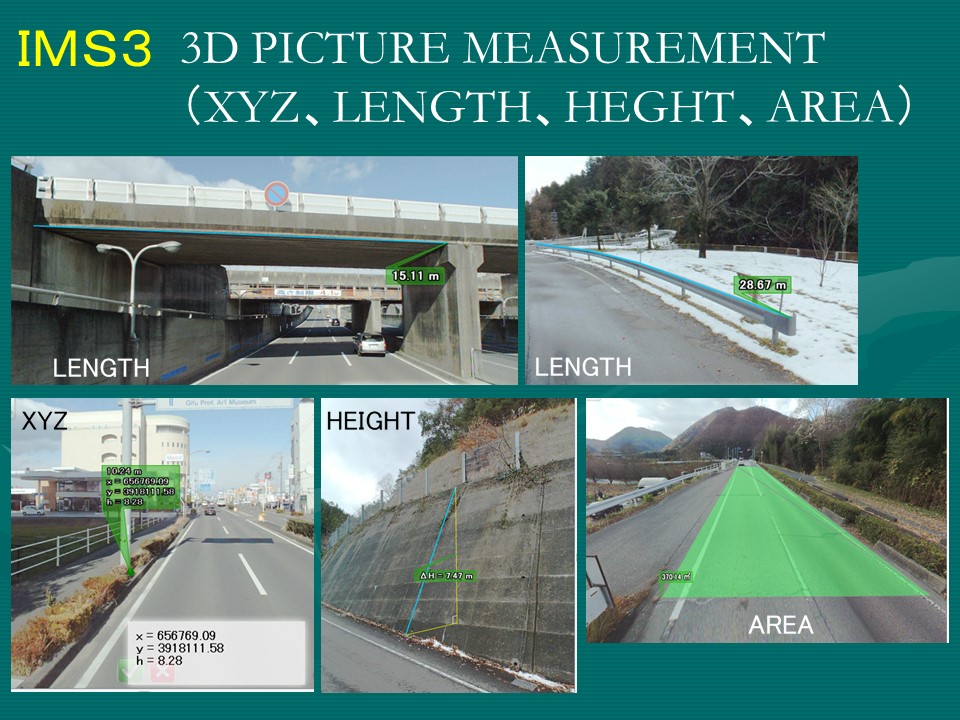 Image Analysis and Measurement with IMS3
The study team conducted a survey to see if IMS3 (a mobile 3D measurement system) could be used to assist in the creation of the road inventory. The IMS3 (mobile 3D measurement system) consists of a high-precision GNSS (GPS GLONASS), two all-surrounding cameras, a vertical sensor, a PC for data processing, etc. It can be transported to Uzbekistan as checked luggage on an airplane and installed in a local vehicle.
Image data is captured in 360° and can be reflected in map software in conjunction with GIS. Dimensions and areas can be measured from the images. For example, the length of cracks in the pavement can be measured on the screen, and the area of the repair can be determined, which can be used to place orders for repair work, for instance.
The Japanese private company that owns IMS3 for this project signed an MOU (Memorandum of Understanding) with the Road Research Institute in charge of road maintenance in Uzbekistan.
Uzbekistan is a pro-Japan country. This is due to the presence of Japanese prisoners of war after World War II and the Navoi Theater, an opera house that built in Tashkent, the capital city of Uzbekistan. The Navoi Theater remained unscathed during the devastating earthquake of magnitude 8 that hit the city in 1966, and became a "legend of the Japanese on the Silk Road". We hope to live up to the achievements of our Japanese predecessors and the expectations of the people of Uzbekistan in this way.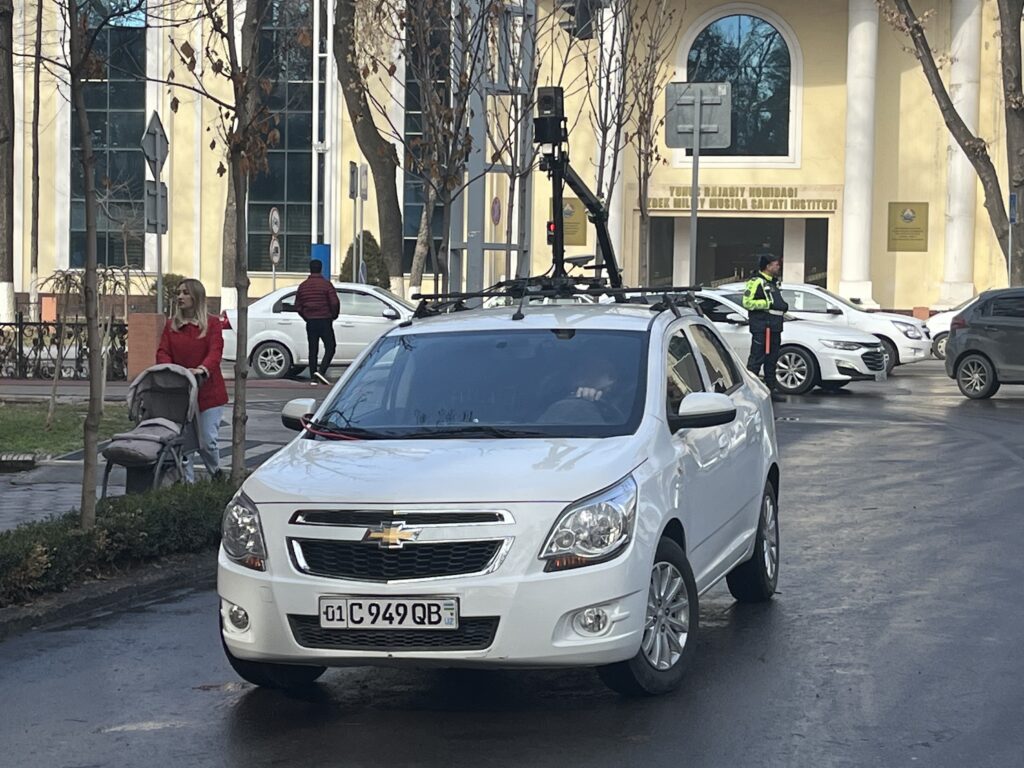 Chevrolet Equipped with IMS3 (taken in the capital city of Tashkent)
一覧に戻る
Other Achievements