Interviews with
Mid-Career Professionals
Profile
Mitsuru Ishii
Joined in April 2018
Construction Planning/Construction Supervision
Reason for
joining the company
After 15 years of working in urban civil engineering in Japan for a construction company that I joined right after graduating from university, I was unexpectedly transferred to Singapore to work on the Singapore subway construction project. As expected, it was like a "baptism by fire" at first because I couldn't speak English at all, but as time passed, my English gradually took shape, and after half a year, I had 20 locally hired foreign staff working under me. For some reason, they called me "Boss". I think that's when I learned the joy of working overseas. About 7 years later, I was transferred back to Japan but even after returning, I couldn't forget the enjoyment of working overseas. So, I changed jobs and returned to Singapore again. I gained a lot of experience working there as a freelancer. When I was exchanging information with foreigners and people like me who had left Japanese companies and were doing freelance work locally, I heard that KEI was recruiting staff for the construction of the Philippine subway, so I made up my mind to join the company.
What kind of work do you do?
After joining KEI, I was assigned to the design project for the first subway construction project in the Philippines, where I was in charge of construction planning. I am currently engaged in construction supervision for the same project. In my 15 years of overseas construction experience, I feel that the most important thing is to exchange opinions with people who are in the same situation as I am, and to create an environment where everyone can demonstrate their abilities without worrying even a little.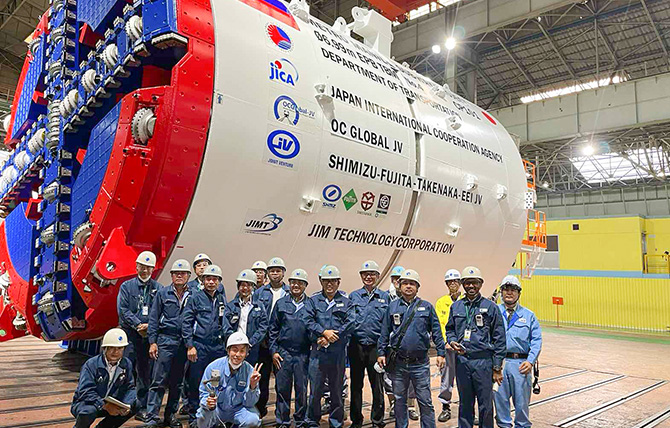 Since joining the company / What I am aiming for
In the future, I believe that bridge and underground railway construction will be the cornerstone of urban infrastructure development in Southeast Asia. In order for KEI to become a leading company in railway construction in the future, I would like to train young and international staff by teaching TBM (shield tunnel construction), which KEI staff have never experienced before. In addition, with an international branch in Manila, KEI has the advantage of being able to gain a closer perspective on the local situation.